Core Gamma
A total (or composite) gamma log in API units, a spectral response providing separate concentrations of thorium, potassium and uranium elements, in conjunction with bulk density can be measured. By comparing the lab core gamma ray with that of the downhole wireline gamma logs, depth correction can be made with confidence. Some benefits from running a core gamma include; depth correction, sample selection, lithological identification and the fact this is not a destructive test.
Core CT-Scan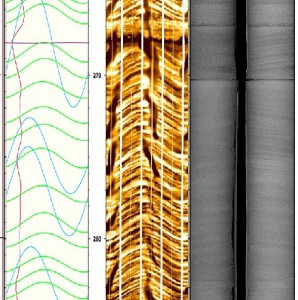 Computed Tomography Imaging (CT Scanning) can provide insight regarding various attributes of your core sample. Through scout scans; core integrity, fracturing, and sedimentary structures can be determined. Axial scanning can be also used to derive more information about the reservoir such as porosity, saturations, etc.
Core Freezing and Slabbing
Unconsolidated oil sands core is frozen in a reefer first before slabbing. Typically cut longitudinally to produce two halves. The "A" half is used for analytical testing and is kept frozen to prevent oxidation and degradation of the material. The "B" half is allowed to dry and the surface is cleaned to show lithological structures and depositional environments.
Core Viewing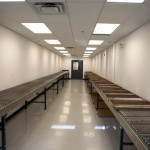 Core is displayed in a core viewing room for geologists to inspect or log. Large viewing rooms are accessible by our clients 24/7. Dedicated viewing rooms with office space are available for clients who need to view and log core on a daily basis. Each core table is capable of holding any standard size core. Each viewing room is equipped with 2 or more tables. Adjacent to the viewing area is a lounge and conference room for full client use while at our facility.
Core Storage (Frozen and Ambient)
Frozen and Ambient core storage for the length of your project. Long term core storage options are also available. Our high capacity facility ensures that your core will be well preserved and protected.
Core Transportation Crates
Shipping crates protect and organize your core at the drilling site, during transportation and in the laboratory. Selecting proper crates for your core minimizes hassles, such as separated wells and core damage. It also addresses possible health and safety risks for workers who handle them.
Core Sampling
Sample selection, cutting and preparation, are key steps in obtaining accurate, representative analytical data. Proper care is always taken to ensure that sample integrity is maintained, regardless of sample type: Dean & Stark, porosity/permeability, bitumen viscosity, particle size distribution, soluble ions, MBI, XRD, thing section or tailings. Obtaining the best representation of your reservoir is achieved through these high quality standards.
Sample Tracking/Chain of Custody
When a sample arrives at our door, our experienced technicians ensure your samples are treated with proper care and respect. All samples and core boxes are individually barcoded to keep track of them every step of the way. All clients have access to the Tarcore Online Tracking System, so as to track their project status from beginning to end.