Practical Oil Sands Core Logging Workshop (one day or two days):
Dates: TBA
Day 1: Comprehensive Introduction and Some Practices.
Day 2: More practices focusing on core description.
Students can choose one day or two days.
Instructor: Dr. Greg Hu, CEO of Loring Tarcore Labs.
| | |
| --- | --- |
| Fees | Location |
| | |
| One day: $675 + 5% GST; Two days: $975.00 + %5 GST. | Loring Tarcore Labs Ltd., 6835 – 8 St NE, Calgary. |
| The fees include lunch, materials, use of computer and core logging software. Students who are hired by us after training will receive 100% reimbursement of the workshop fees. There might be some core logging geologist positions open starting December, 2015. Please note that taking the workshops does not guarantee hiring for the positions. | The workshops emphasize a "hands-on" and "practical" approach to core logging. Any one will find it informative, inspiring, and practical: whether you are a geological advisor, project geologist, or newly-graduated students who is looking for oil sands experience. |
Topics include:
Common depth markers: marker types and their core and log expressions
Principles of core depth correction
Common oil sands facies and their core and log signatures
Identification of common ichnofossils on core and their significance in facies interpretation
Wabiskaw-McMurray stratigraphy and their depositional model evolution
Common core sample types for lab analysis and general sample selection guidelines
Core depth correction: core-based vs image-based with software assistance
Oil Sands Laboratory tour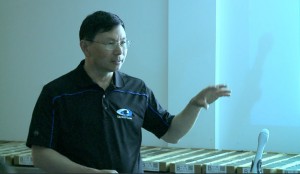 About the instructor: Dr. Greg Hu is a co-founder and CEO of Loring Tarcore Labs. As an oil sands veteran with extensive experience in core logging, especially oil sands core, he created and holds a patent for DIGITAL CORE WORKLFOW METHOD USING DIGITAL CORE IMAGES. Based on this patent, he designed a digital core image based core logging software (Tarcore Technology). This software is integrated into the lab process to ensure a highly efficient lab workflow for large-volume core handling and testing.
For more information, please email info@tarcore.com or call 403-874-4588.
For registration, you can register online or download registration form.